Contributions to Analysis of Neural Spike Train Data
My papers on spike train analysis can be put in 5 categories, listed immediately below. The context and content of these papers are explained in subsequent sections:
The problems attacked have also been treated by other authors, but here I omit references to that other work.

An overview of computational neuroscience may be found in this review article.

One of the most important techniques in learning about the functioning of healthy and diseased brains has involved examining neural activity in laboratory animals under varying experimental conditions. Neural information is represented and communicated through series of action potentials, or spike trains (Kass, 2014). Numerous investigations have documented the way neural firing rate increases in response to a sensory stimulus, or preceding an action.

Figure 1: Raster plots (top) and Peri-Stimulus Time Histograms (PSTHs, bottom) from two neurons recorded simultaneously in primary visual cortex. Each line of a raster plot displays spike times, as dots, for one experimental trial. Spike times in each raster plot are aggregrated into 5 millisecond bins, then counted and displayed in the corresponding PSTH, in units of spikes per second. The solid curves are the smoothed estimates of trial-averaged firing rate , and were obtained using BARS (which will be explained below).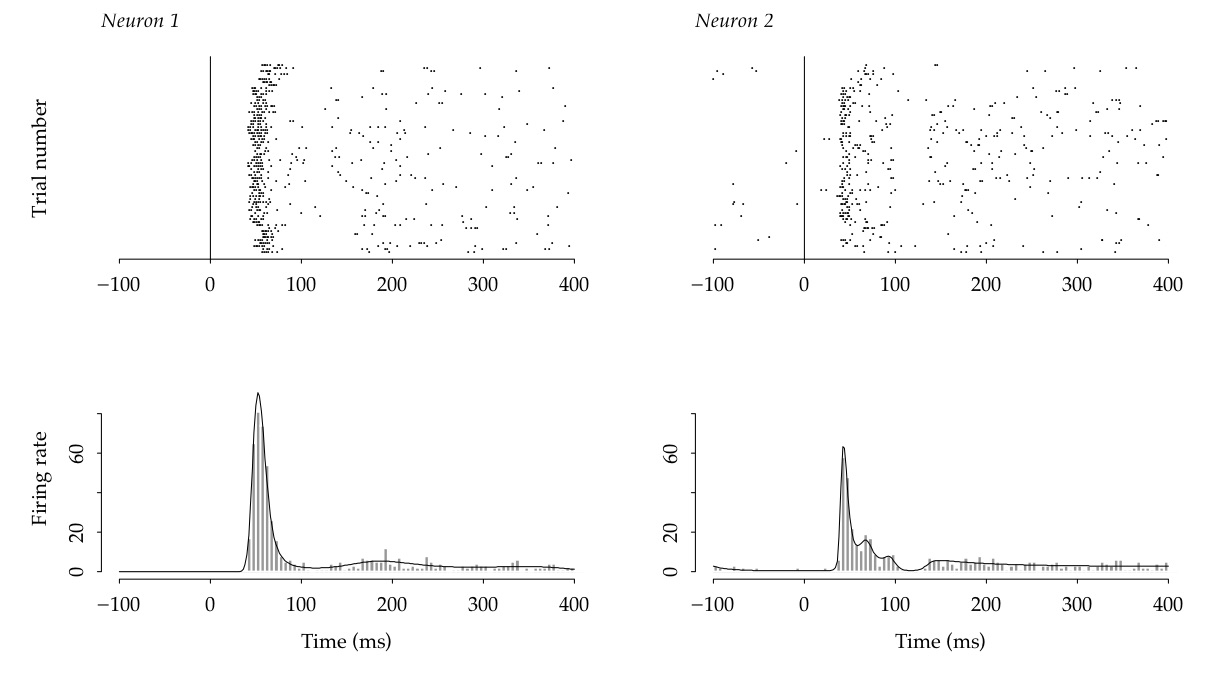 The top two panels of Figure 1 display spike trains recorded simultaneously from two neurons in primary visual cortex during 64 replications, or trials, of a single experimental condition. In each of the lower panels of Figure 1 the data have been aggregated across trials into bins of width delta t = 5, and normalized to units of spikes per second, yielding a Peri-Stimulus Time Histogram (PSTH). This pair of PSTH plots shows a clear change in firing rate across the several hundred milliseconds following time zero, which refers to the onset of a visual stimulus.
Based on a large sample of data, the firing rate (FR) across a substantial interval of time could be defined as FR=(number of spikes)/(interval of time). However, it is desirable to avoid dependence on a specific time interval; furthermore, as may be seen in Figure 1, spikes occur irregularly both within and across repeated trials. It is therefore reasonable to think of a spike train as a stochastic sequence of isolated points in time, i.e., as a point process, and to introduce a theoretical, instantaneous firing rate in the form of the point process intensity function. Analyses of trial-averaged firing rate involve trial-aggregrated data, where the trial identity of each spike time is ignored. In point process terminology, the trial-averaged firing rate is the marginal intensity function. The PSTH may be considered an estimate of the marginal intensity function. Analyses of within-trial firing rate, on the other hand, involve the original spike trains themselves, without aggregration, and are based on the conditional intensity function. Letting H_t denote the history of spike times prior to time t, the point process probability density function, and thus the likelihood function, may be written in terms of the conditional intensity function lambda(t | H_t), which is also the hazard function for the waiting time distribution (waiting for the next spike). On a given experimental trial the conditional intensity determines the conditional probability that the next spike will occur at time: P(spike in (t, t + dt)| H_t)= lambda(t | H_t)dt. In the Poisson case the process is memoryless and the conditional intensity reduces to the history-independent form lambda(t | H_t) = lambda(t).
Figure 2:
Spike trains are measured in discrete time but are conceptualized in continuous time. In each time bin a 1 indicates a spike has occurred. The sequence of 1s and 0s then form a binary time series.

Spike times are recorded to fixed accuracy delta t. An observed spike train is thus a binary time series, as pictured in Figure 2. It is not hard to show that the point process likelihood function approximates the corresponding binary time series likelihood function, for small delta t. Typically delta t = 1 millisecond and the approximation is very good. Importantly, this means that if a point process model sets log lambda(t | H_t) equal to some function of covariates, the spike train data may then be analyzed using generalized linear models and familiar variants of them.
From 1998 to 2010 All of the foregoing was discussed by Brillinger, notably in a 1988 paper in Biological Cybernetics, but no new insights into neural behavior were offered and the main ideas did not begin to penetrate the neurophysiology literature until at least 10 years later. In 1998 Emery Brown and colleagues published a paper that introduced state-space modeling, in the context of point processes, to neuroscience. That year he and I decided to learn about existing approaches to spike train data analysis with the goal of writing a review article. As Emery and I dug into the literature we discovered gaping holes, holes so large that we could not write a review until they were filled. With various colleagues Emery and I, mostly separately, worked on several problems, as did some other statistically-oriented researchers in neurophysiology. Finally, by 2005, together with Valerie Ventura, we were able to finish and publish the review article we had set out to write 7 years earlier (Kass, Ventura, Brown, 2005; see also Brown, Kass, and Mitra, 2004). Along the way, in 2002, Emery and I began a series of international workshops Statistical Analysis of Neural Data (SAND), bringing together experimenters, computational neuroscientists, and statisticians. It is impossible to say what impact these research and outreach efforts had on the field, but the quality of statistical analysis of spike train data improved dramatically over this period. The first SAND meeting devoted considerable time to problem definition. At the fifth SAND meeting, in 2010, investigators reported development and application of state-of-the-art statistical methodology in attacking well-formulated and important scientific questions. (See Brown and Kass, 2007; Kass, 2010a.) Our experiences during this time prompted reflections on the nature of statistics and statistical training (Brown and Kass, 2009), and on the connections between statistical practice and the foundations of statistical inference (Kass, 2010b, 2011).
Since 2010 Subsequent work has moved more systematically into analysis of simultaneously-recorded multiple spike trains. Challenges often involve regularization and, increasingly, inferences about cross-area coupling (e.g., Vinci et al., 2018b). A major review of computational neuroscience, with an emphasis on the complementarity of mathematical and statistical modeling of spike train data, was given by Kass and 24 others in 2018 in the Annual Reviews series and may be found here. Also, in 2014 Emery and I, together with Uri Eden, published our textbook Analysis of Neural Data.
---